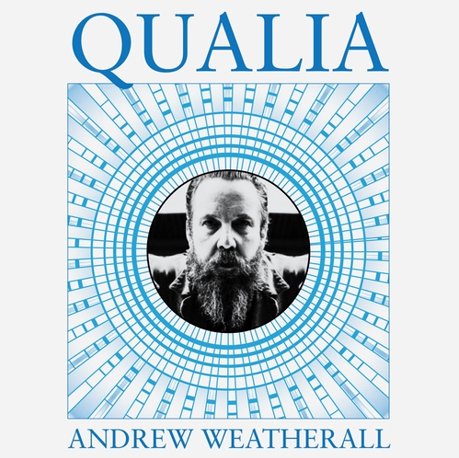 Qualia
Andrew Weatherall
Mr Weatherall's latest album is out now on P-Vine Records (Japan) and Hoga Nord Rekords (rest of the world). Listen to the opening track 'Evidence The Enemy' via The Quietus and 'Spreads A Haze (And A Glory)' via XLR8R and you can order direct: double LP or cassette or CD the album will also be available for download/streaming.
Over to Andrew to describe the album:
"Mr Brackstone, my psychic shepherd, when confronted by the facts would probably say it was cosmic synchronicity but then again he would because he's Jung at heart. Others may cite mere coincidence. These are the facts. I'll leave the metaphysical debate for another time…
It's all about the black notebooks as memorial device and "The Black Notebook" and "This Is Memorial Device". At the same time as reading Mr Modiano and Mr Keenan I was ensconced in the Woodleigh Research Facility investigating a method of composition sparked by a random event too prosaic for the telling; unless of course we go back to "The Red Book" and see the hand of Jah [the D.M.T molecule that steers human existence] at work. After all it was him/her/non-binary that sent me the "shave your beard off" message. And the "don't buy any more drugs" one.
Whatever your leanings the music on "Qualia" is the result of images, feelings and thought processes stirred up by Monsieur Modiano and Mister Keenan channeled through the medium of a sonic noteboook – in itself the memoir of somebody else's life/fiction.
My own black notebooks, like Jean's [Modiano's protagonist] stir the silt of memory and birth as many mysteries as memories. They also provided the track titles."